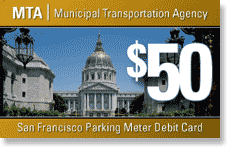 San Francisco Parking Card
Out of Quarters? Hungry Meter?
Most parking meters in San Francisco will take Parking Meter Card. Don't get caught without the right change again. You can purchase Parking Cards in either $50 or $20 increments.
On all the parking meters there is a slot to put them in and you simply watch as the meter price changes and take them out when you reach the amount you want to put into the meter.
Parking Tips
Visitors to San Francisco
If you are planning to visit San Francisco and are staying in a hotel in the Union Square Area, we recommend you don't rent a car. The hotels charge quite a hefty fee for parking your car at their hotel (around $100/night in many cases) and while you can choose one of the following garages to park for less, you will not have in and out access and will be charged each time you bring your car in and then leave. In other words the 24 hour fee is only if you were to keep your car there and not move it.