Two years before the Gold Rush, in 1847, Jasper O'Farrell created a design for San Francisco, with Union Square as a public plaza. By the 1880s, it was a fashionable residential district, and in 1903, the towering monument was added, topped by the bronze goddess Victory, modeled after Alma de Bretteville Spreckels, known for her enormous influence in the San Francisco art community.
As a result of an international design competition and a $25 million renewal, Union Square was reborn. It's the obvious place to meet, enjoy coffee, or just let the world go by. Featured are a large central plaza with a terraced performance state and lawn seating...four grand entrance corners bordered by signature palms...a café pavilion with outdoor seating...visitor information and ticketing services...and four magnificent light sculptures.
And, of course, Victory, surveying the vitality of one of the world's great cities.
Our Favorite History Books about San Francisco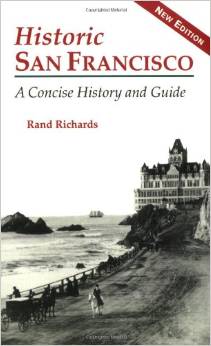 Historic San Francisco: A Concise History and Guide
This combination history/guidebook is divided into ten chapters, each of which provides background information on San Francisco's historic buildings, museums, and artifacts as well as profiles of sites and attractions.
---
Lost San Francisco
Aspects of lost San Francisco that are examined here include the Victorian Alcatraz, Cliff House Hotel before it burned down, the early Embarcadero, the devastation of the 1906 earthquake, horse-drawn streetcars, the grandeur of the Sutro Baths both outside and in, the 1915 Panama-Pacific Exposition buildings, the changes made to combat a possible Japanese invasion during World War II, and some of the key hippie stores on Haight-Ashbury before the area became more upscale.
Buy on Amazon
---
Architectural Guidebook to San Francisco and the Bay Area
An Architectural Guidebook to San Francisco and the Bay Area is the definitive guide to the history and architecture of the nine San Francisco Bay Area counties. This compendium has been written and photographed by Susan Cerny and twelve Bay Area experts and provides a historic record of how the area developed to became what it is today, and discusses transportation systems, city and suburban landscape plans, public parkland, California history, and economic, social, and political influences. Included are San Francisco Victorians, civic buildings, churches, parks, grand Period Revivals, and rustic Arts and Crafts homes, as well as significant vernacular buildings in less publicized neighborhoods and towns.
Buy on Amazon
---
Cityscapes: San Francisco and its Buildings
Buildings in cities are remarkable things: they provide not only shelter but touchstones of reference and recall, a language that shapes our sense of place as well as the skyline. In sparkling prose and with full-color photography, Cityscapes looks at fifty buildings that convey a distinct slice of San Francisco. These are the buildings that are defined by bold visual moves and the ones that offer tactile delight. These are the structures you notice every time you pass by, and the ones that escape notice until the light hits them a certain way. Included are some of San Francisco's most familiar buildings and works by some of architecture's biggest names but also plenty of buildings that are often ignored yet add a unique texture to this fabled place. An outgrowth of Cityscape, a weekly column that debuted in the San Francisco Chronicle in 2009, Cityscapes is part history, part guidebook, and part architectural primer. And the points it makes about specific buildings convey something true to all great cities that every building shines in its own way as a distinctive piece in a much larger puzzle, one still being assembled before our eyes.
Buy on Amazon
---
Cool Gray City of Love: 49 Views of San Francisco
A runaway San Francisco Chronicle bestseller, Cool Gray City of Love is a one-of-a-kind book for a one-of-a-kind city. It's a love song in 49 chapters to an extraordinary place, taking 49 different sites around the city as points of entry and inspiration—from a seedy intersection in the Tenderloin to the soaring sea cliffs at Lands End. Encompassing the city's Spanish missionary past, a gold rush, a couple of earthquakes, the Beats, the hippies, and the dot-com boom, this book is at once a rambling walking tour, a natural and human history, and a celebration of place itself—a guide to loving any place more faithfully and fully.
Buy on Amazon
---
San Francisco's Playland at the Beach: The Early Years (1920-1940)
Presenting many rare photographs of Playland at the Beach and the surrounding neighborhood--including previously unpublished photographs from the private archive of ride designer Laurence Hollings--this collection contains a comprehensive photographic record of the enthralling amusement park from its construction in 1920 through its glorious heyday in the 1930s and 1940s. Each of Playland's famous rides receives its own chapter--including the Hippodrome Merry-Go-Round, the Merry Mix-Up, and Rocket Speedway--with photographs showing both how the rides were built and how they looked in their prime. Painstakingly researched, this book also includes chapters on the pioneering park's attractions, arcade amusements, restaurants, and nightclubs, along with incidental photographs depicting the clothes, cars, people, and customs of the era. Describing the fun sights, sounds, and flavors, this little-known history gives readers an enchanting vision of a glamorous and care-free time.
Buy on Amazon
---
San Francisco's Playland at the Beach: The Golden Years (1945-1972)
Comprehensively documented and illustrated, this is the definitive and authoritative look at one of America's landmark amusement parks, Playland at the Beach, a glamorous park that is still revered by San Franciscans more than 40 years after it closed. A dearly loved part of old San Francisco, the park incorporated rides, dining, sight-seeing, socialization, and its pioneering attractions inspired the designers of the amusement parks that followed. A companion piece to ""San Francisco's Playland at the Beach: The Early Years,"" this keepsake covers the years 1945 to 1972, showcasing both the height of Playland's postwar popularity and its decline, closure, and destruction during its final years. Illustrated by a huge collection of rare black-and-white and color photographs, it lets the reader experience the rides, attractions, restaurants, and behind-the-scenes operations of the great amusement park during its best-remembered period.
Buy on Amazon
---
San Francisco's Lost Landmarks
With long-forgotten stories and evocative photographs, this collection showcases the once-familiar sites that have faded into dim memories and hazy legends. Not just a list of places, facts, and dates, this pictorial history shows why San Francisco has been a legendary travel destination and one of the world's premier places to live and work for more than 150 years.
Buy on Amazon
---
Season of the Witch: Enchantment, Terror, and Deliverance in the City of Love
Salon founder David Talbot chronicles the cultural history of San Francisco and from the late 1960s to the early 1980s when figures such as Harvey Milk, Janis Joplin, Jim Jones, and Bill Walsh helped usher from backwater city to thriving metropolis.
Buy on Amazon
---
San Francisco Chinatown: A Guide to Its History and Architecture
**A Los Angeles Times summer reading pick** "A stunning new guidebook. . . History buffs will be amazed by the wealth of lore, legend and radiant fact."—San Francisco Chronicle San Francisco Chinatown is the first "insider's guide" to one of America's most celebrated ethnic enclaves by an author born and raised there. Both a history of America's oldest Chinese community and a guide to its significant sites and architecture, San Francisco Chinatown traces the development of the neighborhood from the city's earliest days to its post-quake transformation into an "oriental" tourist attraction as a pragmatic means of survival. Written by architect and Chinese American studies pioneer Philip P. Choy, and featuring photographs and walking tours, the book details the triumphs and tragedies of the Chinese American experience in the United States.
Buy on Amazon
---
Infinite City: A San Francisco Atlas
What makes a place? Infinite City, Rebecca Solnit's brilliant reinvention of the traditional atlas, searches out the answer by examining the many layers of meaning in one place, the San Francisco Bay Area. Aided by artists, writers, cartographers, and twenty-two gorgeous color maps, each of which illuminates the city and its surroundings as experienced by different inhabitants, Solnit takes us on a tour that will forever change the way we think about place. She explores the area thematically—connecting, for example, Eadweard Muybridge's foundation of motion-picture technology with Alfred Hitchcock's filming of Vertigo. Across an urban grid of just seven by seven miles, she finds seemingly unlimited landmarks and treasures—butterfly habitats, queer sites, murders, World War II shipyards, blues clubs, Zen Buddhist centers. She roams the political terrain, both progressive and conservative, and details the cultural geographies of the Mission District, the culture wars of the Fillmore, the South of Market world being devoured by redevelopment, and much, much more. Breathtakingly original, this atlas of the imagination invites us to search out the layers of San Francisco that carry meaning for us—or to discover our own infinite city, be it Cleveland, Toulouse, or Shanghai.
Buy on Amazon